Our Heritage -Timeline
1989
Abraham George Patio started operations as a small PVC furniture manufacturer by twin brothers Todd and David May.  At the time, PVC patio furniture was just gaining popularity because of its durability and low cost.
1990
Most PVC furniture on the market was boxy looking and the brothers were continually experimenting with designs and methods of manufacturing to add a little style.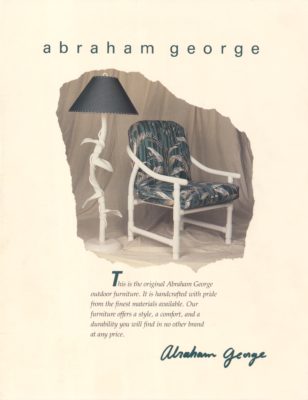 1992
With a little creativity and some innovative manufacturing techniques, Abraham George was able to bring fresh new designs to a traditionally bland segment of the outdoor furniture market.
1993
Abraham George developed a full line of outdoor furniture and showed their new line at the outdoor furniture industry's premier trade show.
Their new bamboo inspired PVC furniture was a hit and manufacturing started to ramp up.
1994-2001
Abraham George PVC furniture soon became the standard in its class.  Sales grew and the company added dealers while continuing to sell locally out of their factory/showroom facility.
2002-2007
Changes in styles and designs, along with the introduction of new recycled synthetic products, marked the beginning of the end for PVC furniture.  During this time, Abraham George forged relationships with the best manufacturers in the industry to represent and partner with in their showroom in Tallahassee.
2008
With patio furniture sales to some of Tallahassee's biggest institutions and organizations, along with a steadily increasing retail business, the brothers decide to forgo manufacturing and focus exclusively on the retail side of the business.
2009
Abraham George expands their sales and repair services to include commercial jobs for hotels, apartments, schools, home owner associations, golf courses and government institutions.
2010
Leveraging 30 year's experience in the industry along with 20 years of manufacturing know how, Abraham George partners with the best vendors to make their own line of synthetic wicker.  The Abraham George line is shown for the first time in the Tallahassee showroom and is a big success.
2011
Abraham George expands its lines of synthetic wicker and secures a Florida factory to make all its cushions.  As in the days of their industry leading PVC furniture, their new synthetic wicker gains the reputation for being some of the most durable and beautiful designs on the market.
2012
Along with the expansion of their own line, new vendors are brought in to add to the already great selection of the industry's best name brands.
2013-present
With 30+ years in business, Abraham George has brought together the best outdoor furniture brands in the industry, created its own unique line of furniture and has gained the manufacturing knowledge to service and repair all brands of patio furniture.  In the process, Abraham George has become a Tallahassee landmark recognized for offering quality and customer service in a relaxed environment.